Product: AirStation 54Mbps Wireless Ethernet Converter
Manufacturer: Buffalo Technology
Retail Price: $129 USD
Date of Availability: Now Available



An Ethernet Converter is basically a simplified bridge that establishes a bridge between the wireless network and the local wired network (usually one client ethernet device) that it is attached to. The Buffalo AirStation 54Mbps Wireless Ethernet Converter is a convenient device used to turn any ethernet capable device into wires-free operating mode. Simply plug the ethernet cable into the Wireless Ethernet Converter and you're off.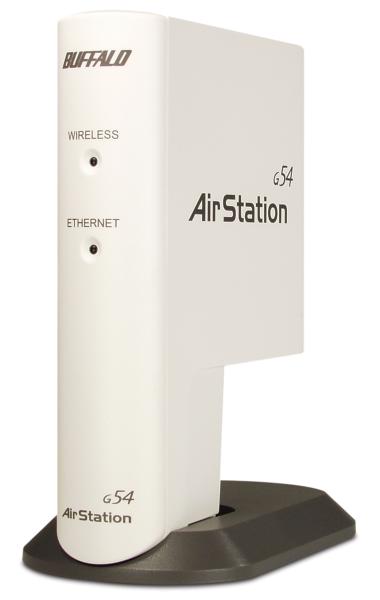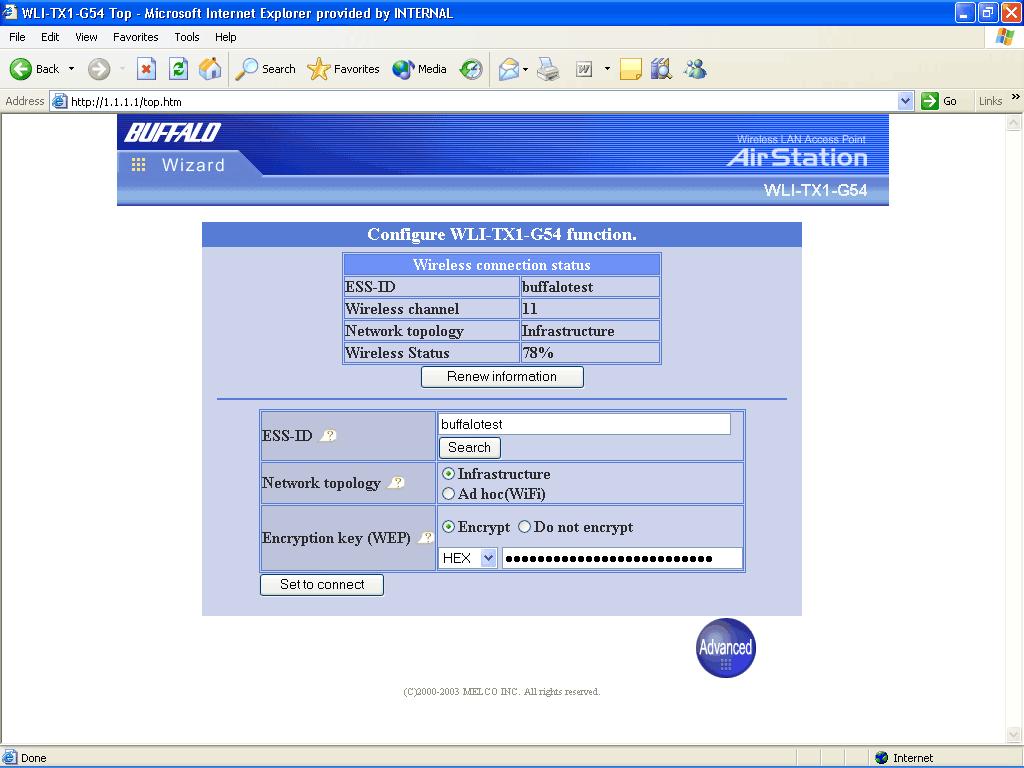 Buffalo Technology lets you set up the Wireless Ethernet Converter in one of two ways: a Windows application or through an operating system independent browser interface. Once set up, a Wireless Ethernet Converter can store its own settings allowing it to be moved from one workstation or device to another.

The Wireless Ethernet Converter came configured with the IP address 1.1.1.1 so setting it up definitely involves a PC. Using the quickstart guide, the set up time for this product is about five to fifteen minutes depending on the complexity of the network it is being installed. The wizard interface for the web administration proved to be most helpful. It has a handy search built in to let you search for ESS-IDs for possible access points to bind to and there is a color code to show how strong the signal is for each one.

The advanced setting lets you add multiple keys, change the wireless speed and personalize the administrative password. Curiously, you'll almost need to hit the advanced mode immediately to ask the bridge to change its IP to your local LAN (consumer/SOHO environments tend to flock around 10.x.x.x and 192.168.x.x) or at the very least ask a DHCP server for a new address. It might have worked easier if there were a first-time set up screen to allow for this. And there are some inconsistencies with the web interface here, although it's not much of a concern since you won't be rummaging through the Wireless Ethernet Converter once it is working. But issues like spelling mistakes on the screen are disconcerting.

Performance using the Wireless Ethernet Converter is fairly impressive. Throughput hits a maximum of 24mbps and at the very least we received something around 15mbps. It is also able to adapt to 802.11b access points. But for a 802.11g device, it unfortunately doesn't support the strengthened WPA encryption, a technology present even in Buffalo Technology's own access point and router products. The website says a firmware update is forthcoming.

Typically games are more concerned with latency than it is with bandwidth. There were no drops in the Wireless Ethernet Converter, although there was one instance where the Wireless Ethernet Converter was cycling intermittently. Pulling the power plug and plugging it back in solved this issue and the product continued to work without a hitch for the remainder of the review.

In terms of bandwidth for online games, the Wireless Ethernet Converter will provide ample bandwidth even in a mixed 802.11b/g (~10mbps) and 802.11b (~2-4mbps) setting. That's because most broadband connections in a home or SOHO environment don't exceed 3mbps. In order to cause the Wireless Ethernet Converter to sweat a bit, we did try loading MP3s and large image files into an Xbox with Music Mixer installed. The transfers were notably faster because of the greater throughput.

This is definitely not the first ethernet bridge/converter type products that we have reviewed. But it is the first 802.11g bridge/converter reviewed. It is faster but none the more complex, which is important in a product aimed for consumers. It happens to look pretty slick too like a futuristic space age toy from Star Trek.

One important thing to note is that a single 802.11b device has the potential to knock off a good chunk of the bandwidth for the faster devices on a wireless network. If you are planning a 802.11g network, this is a good upgrade to any 802.11b devices you have around including old bridge/converters.

We also take a special interest in these products because gaming consoles (except for Microsoft) do not come with wireless adapters. They depend on a wired connection; one that could be difficult to pull into a living room setting. In such unwieldy situations, the Wireless Ethernet Converter is a stellar easy to use solution able to transform the ethernet port of any console, printer or media server and give it a connection to a home network or the Internet – all without wires.